Neighbourhood Development Plan
December 21st 2020


Options Consultation Headlines
We promised to give you feedback before Christmas on the recent questionnaire. The headlines are below but we will follow this up with more detailed analysis in the New Year. Once again thank you to all who took the time to respond it was magnificent
How many people responded?
We had just over 460 people participating (taking into account whether responses were made individually or from households).
The approximate breakdown by area was:
North Cadbury 50%
Woolston 11%
Yarlington 9%
Galhampton 30%
We had a good response rate from each settlement, which has provided a good basis for our analysis
The vision
Thought to be good or very good by about 4 out of 5 respondents with some further suggestions made that we will need to consider, such as placing more emphasis on improved facilities, and retention of the character of the area
Approach on Housing Mix, Employment and Facilities
Over 90% felt the findings were about right, not surprisingly however we received over 100 added comments particularly on Housing and certain facilities issues
Sites for Housing and Employment
A total of 8 sites were clearly supported by residents with another 5 locations having a borderline level of response. 7 of the sites were subject to outright rejection, with what could be described as an overwhelming level of opposition.
We received a large number of responses to these questions which we will carefully consider. We have also had further contacts from landowners about their site options and possible changes, that we also need to consider.
Once we have done this, our next step will be to discuss the possible site choices with SSDC in the New Year
Local Green Spaces and Important Views
Green Spaces and Views are clearly very important to residents of the Parish with at least 80%, and sometimes nearly 100% of people saying these were very important. We had a large number of comments and suggestions to look through, and from this have identified at least 4 more locations to assess as local green spaces (we will try to contact the landowners of these sites), and at least 5 more views to consider
Walking, Cycling & Riding
We sought to understand how well footpaths, bridleways, routes and cycleways were used. We have more than enough evidence to show that the routes we had identified were well used. As this was quite a high priority from the household survey we conducted in February we also wanted to know if you had any suggestions on new routes and where they might run. We had over 70 comments/suggestions which we are now sifting through!
Anything else?
We had just over 50 comments on other points to consider, which we will do. We also had a lot of complimentary and supportive comments, and some rightly challenging us to up our game in communicating plan progress going forward.


---


December 15th 2020
Options Consultation Early Headline Results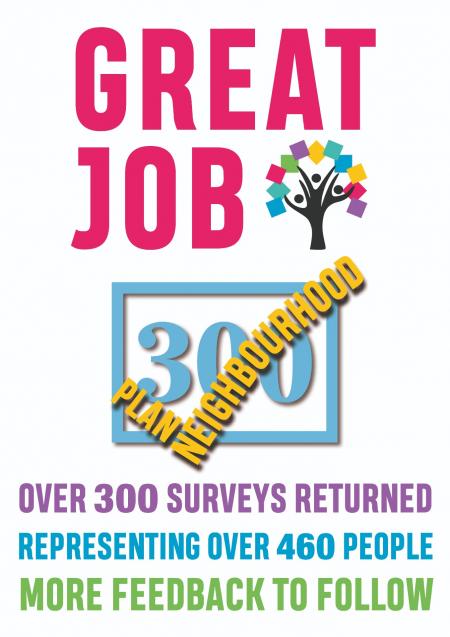 ---


November 5th 2020
Options ConsultationPresentation and questionnaire are now available

Have your say on Housing Development

and much more




Delayed by Covid this extensive piece of work follows the household survey held earlier in the year and incorporates input from various official external bodies


The presentation brings you up to speed on all topics, so that you are best informed to express your opinion on all matters, particularly on proposed housing development sites


When you have viewed the presentation, on the final page you will find a big red arrow, please click on this to go to the questionnaire to submit your views


For our plan to have credibility we really need 200-300 replies, so please tell your local friends and neighbours in order that we can get the best response possible
For those without a computer we are planning to letter box drop the questionnaire, we will keep you informed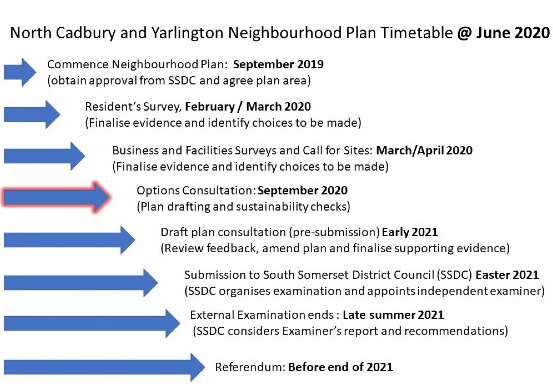 Plan progress has slowed slightly due in part to Covid19 and the delay in obtaining our grant for the period to October 2020, which we are pleased to report has now been secured. The next major milestone Options Consultation is now planned for September rather than July as previously reported
The household survey which closed with a 58% response rate (very high) has now been published and details resident's opinions on a range of topics including housing, green spaces, facilities employment and much more

Employers and service providers have been asked to express their views on the future of the parish and we are now analysing the results
Significantly, we have now completed our Call for Sites, where residents and local landowners have submiited sites for possible development. The results are currently being combined with data from SSDC who undertook a similar process recently
All the data from the above and various other surveys now under way, will be used together with a housing needs assessment to determine what development is needed and appropriate for the parish.
The housing needs assessment will shortly be undertaken by external professionals - AECOM (Locality - Neighbourhood Planning Support) who will draw on population statistics, projected changes in household size and numbers, affordability and a whole raft of other information.
The culmination of this effort will be an Options Consultation throughout the Parish in September 2020
Remember, there will be development in the parish (whether we have a plan or not)
The purpose of the Neighbourhood Plan is to influence how many, what is built and where, to keep the essential character of the area. No development is not an option.
If you want to be kept up to date regarding events and issues as we progress the plan, please subscribe to our Newsletter using the pink tab at the top. That way you will always be the first to know of any developments
---

Our Chance to Influence the Future

Background
In the North Cadbury and Yarlington Parish we live in a beautiful part of Somerset which we can all enjoy both now and hopefully in the future.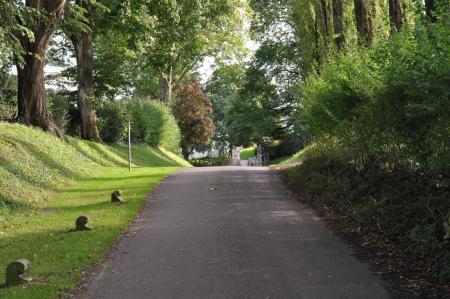 In 2006 the Parish Council published a consultation document on the future of the parish that attempted to "Marry the Future to the Past" the 2006 Parish Plan
By March 2015 SSDC had developed and adopted the SSDC Local Plan 2006-2028 which supports the Council's long-term vision for managing and accommodating residential and economic growth across South Somerset. Following concerns though, raised by HM Inspector at the examination stage, the Council decided to undertake a review of the Local Plan and committed, to produce by late 2021, a Revised Local Plan now covering the period 2016-2036
In the same period the Parish Council commissioned a further local consultation resulting in the 2017 Community Plan. Like its predecessor in 2006 its aim was to obtain the views of parishioners on how they wanted the four areas of the parish (North Cadbury, Galhampton, Yarlington and Woolston) to respond to growing demands for housing and employment
The consistent response from both consultations was a desire to preserve the footprint and character of the area, with any new housing developments to be built sympathetically and integrated into the Parish environment. However, in both cases the reports were only a guide for planners and had no legal status. To achieve that, under the 2011 Localism Act, the Parish Council are obliged to produce and have adopted a Neighbourhood Plan.
Going Forward
In the light of this the Parish Council have decided, whilst the SSDC Local Plan Review is taking place, to take the next step and produce the North Cadbury and Yarlington Neighbourhood Plan, which when adopted, will have the benefit of establishing planning policies with statutory weight that will influence future planning decisions in our community and will last for the same period as the Locality Neighbourhood Planning Support
To help develop and deliver our Neighbourhood Plan this website has been built (as part of a wider set of initiatives - see Latest News) to inform and to encourage parishioners to participate in creating a sustainable development plan that meets the needs of the present without compromising the ability of future generations to meet their own needs.
Navigating the site
A range of topics will need to be addressed, each may be accessed through the icons below. Further information and functions are available via tabs at the top. Within any section relevant documents or images may be accessed directly by clicking on the blue text
This site has been designed for use on your PC, Tablet or Mobile Phone and in each case, there is a site map providing connections to any aspect of the site as well as links to other relevant websites
Getting Involved
Currently under the SSDC Local Plan Review process our parish has been identified as a target for significant housing and employment growth.

If you wish to influence the outcome of that review you need to become involved and make your voice heard. To do so please use the contact form under the Get Involved section of Information and Documents tab above where you will also find our privacy policy. Or if you wish simply to make a comment then use the Contact US tab above
We hope you find the site informative, useful and we welcome any feedback you may have
News Updates
Options Consultation Now Closed
The Options Consultation closed on the 6th December, and the response has been brilliant
We are now analysing the data and aim to bring you the results before Christmas
Please sign up for our Newsletter to have the results emailed to your inbox
8th December 2020